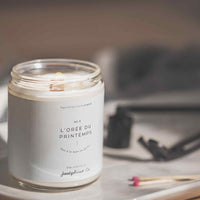 No. 8 Bluebells Cucumber Leaf
Vegan Certified Natural & Eco-Friendly Coconut Soy Wax. Fragrance free of phthalates and parabens.
This candle with natural coconut soy wax is made with green flowers and white lily contrasts with the fresh cucumber and crunchy in a fragrant elixir will surprise you with its fresh smell. Made with wooden wick.
Top note: White lily, cucumber
Heart note: Green tea, apple, eucalyptus
Base note: Bamboo, white wood, musk
Vegan fragrance, free phthalate and cruelty free